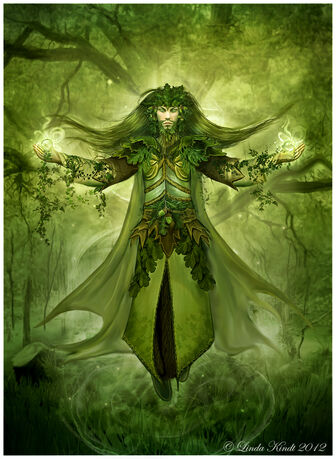 Qualitash
Edit
Qualitash was the previous god of nature and the natural world.
The Green Man, the Traveller, the Wanderer.
Current Status
Edit
Deceased.
Alignment
Edit
Neutral.
A pair of eyes looking out from between green maple leaves.
Portfolios
Edit
Moon, Nature, Travel.
Era of Ascendance
Edit
Typical Worshippers
Edit
Druids and rangers were the primary worshippers of Qualitash, though some farmers and others that live off the land named him patron.
Avatar Description
Edit
A tall, muscular man with grass green skin and hair of vines. He had wooden antlers atop his head and wore a kilt woven of reeds and fronds.
Known Artifacts
Edit
Mekki Shakki. Qualitash's quarterstaff looks to be a simple wooden staff with flowering vines growing along its length. It is said to provide sustenance to its wielder, increase his speed, and make him tireless when traveling long distances. It gives it's wielder the ability to command plants nearby, even bringing some to life to aid the wielder. It was last seen during the Culling, where it is believed to have been destroyed.
Associated Holidays
Edit
None.