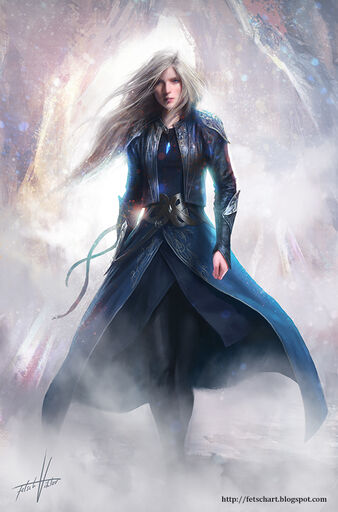 Liambic was the god of balance and neutrality. He was one of the very small number of deities that never attempted direct interaction with the mortal realms. He was considered cold, unemotional, and uncaring.
The Creator.
Current Status
Edit
Unknown.
Alignment
Edit
Neutral.
An eye-twisting symmetrical silver rune against a blue field.
Portfolios
Edit
All.
Era of Ascendance
Edit
Before time began.
Typical Worshippers
Edit
Liambic had very few followers, but chief among them were those that believed in equality and impartiality. Thus he was often seen as the patron god of judgement, judges, magistrates, and the law in general. His worshippers were known as Confessors, which is due to their sacred duty to take confession and absolve the confessing party.
Avatar Description
Edit
Though never seen, he is typically described as a tall man with elf-like features, long silver hair, pale skin, and sparkling blue eyes. He is most often thought to wear robes of white and red, or blue and silver. In all his depictions though he is seen wearing an expression of purest indifference.
Known Artifacts
Edit
None.
Associated Holidays
Edit
None.